For Creatives
Materials Council guide architects, designers, property developers, brands and organisations through the complex process of appropriate materials selection, helping them to successfully realise their creative vision and promoting innovation.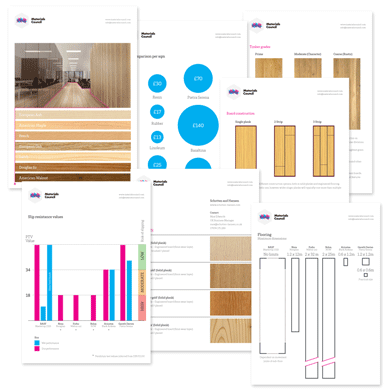 By assuming responsibility for in-depth materials research we increase its effectiveness, achieve results in shorter time and free designers to focus on the design itself.
Materials Council bridge the manufacturing and creative industries, translating technical data, material performance and constraints, and communicate them in clear, visual and immediate terms; aiding the comparison and selection process of materials and their successful implementation within project constraints.
We offer a comprehensive materials consultancy package to fit any project brief, budget and criteria. Our scope can include working on a specific feature of a design scheme, a specific project phase or supporting a project in its entirety from concept to construction.
Materials Council believe that materials should not be considered as an afterthought; design and materials are integral.
Completely independent from manufacturers, our consultancy is not influenced or compromised by our relationship to industry.
Contact Ian Hunter to discuss how Materials Council can support your project: hunter@materialscouncil.com
Benefits afforded
•

Awareness of the latest

and finest materials, products and technologies
•

Guided exploration

of available material solutions
•

Supported decision making

: make better materials choices
•

Insight

into pertinent design and material considerations
• Exploit opportunities for

innovative and exemplary

material use
•

Design differentiation

through materials
• Holistic approach to

sustainability

through complementary design strategies and materials
• Clearly

convey the materiality

of your design
•

Strengthen client presentations

and bid submissions
•

Facilitate communication

amongst colleagues and with clients
•

Retention of materials knowledge

, insight and research through formal documentation
• Allow designers to

focus on design

, avoiding arduous hours collating research
• Save time, money and

meet demanding deadlines


• Fast-turnaround materials

solutions in emergencies


• Specialist resource available as and when required,

not permanent financial burden


• Access to

specialist resource

normally the reserve of only the largest architectural or interior design practices
• Access to our database of

manufacturer contacts

, guaranteeing you reach the right person to assist your needs
---
Services

• Rapid-turnaround one-to-one materials surgeries
• Problem/application specific research
• Project consultancy
• Thematic research
• Client and in-house materials presentations
• Workshops and professional development

Outcomes

• Dialogue throughout the research process
• Counsel of suitable materials and specific commercial products
• Comparison and translation of complex, dissimilar data into intuitive, graphical terms
• Detailed, archivable research document
• Sample procurement
• Presentation of research in person, supported by materials layout
• Manufacturer contacts
---
---
Client testimonials

"We had a disaster on site when our new, high-spec insulation product turned up and was simply not fit for purpose. I put the challenge to Ian to suggest a suitable alternative; within an hour Ian had come back with a product that was fit for purpose. The suggested product was ½ the price and 4 times as efficient, potentially saving the client on install cost and gaining extremely valuable floor space."
– Andrew Richards, associate Studio Indigo
"In terms of the service, we found it excellent. By Materials Council taking over the sourcing and research of the materials, we could concentrate on the design of the space… I would recommend Materials Council to companies both large and small who could benefit from a specialist and extensive knowledge of materials."
– Tom Kennedy, senior designer GLOCK UK