Materials Libraries
What a building is made of and how it is made – its materiality – are two of the most significant factors that dictate a design and its success over the course of its life. But beyond this, new material developments and innovative implementation also provide some of the greatest opportunities for creativity, expression and exploration in the built environment. That's why we believe that a functioning in-house materials library is an essential resource and creative working tool for all practices.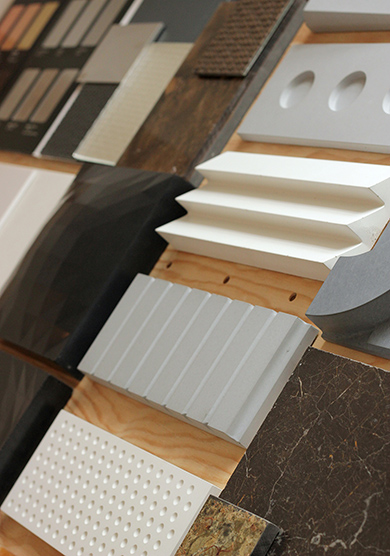 Materials Council leads you in the establishment or modernisation of your own in-house materials library resource and provides custom-designed digital tools enabling its successful operation; the physical materials library and the digital interface working hand-in-hand as a singular professional working tool.
Materials Council recommends a physical infrastructure to suit your requirements, available space and current collection of materials. Our Materials Library Software enables you to enter your own material samples into a digital database, browse the samples remotely, locate samples quickly within the physical library, and recall further detailed material information, including previous product use, experiences of the practice and in-situ photographs.
Through consultation, if required, Materials Council can also curate a comprehensive range of key reference materials, products and systems to fully populate your library with a tailor-made collection of samples, ensuring the material required is never far away.
Our optional Materials Dispatch service offers to periodically update your library shelves with new and innovative materials, keeping your materials library at the leading edge of commercial material developments.
Contact Ian Hunter for further information or to arrange a free library consultation: hunter@materialscouncil.com
Why a materials library?
•

Increased effectiveness

Improve awareness and knowledge of the market and available material solutions

• Increased efficiency Quickly find, explore and compare material options the moment ideas are generated. Assist the research process and reduce the time demanded by it. Quickly locate a manufacturer and the right person to contact

• Enhanced communication Share material palettes and technical data-sheets to communicate clearly and efficiently with project teams, external contractors and clients about material choices. Hi-resolution images are provided licensed for use within your project documentation

• Knowledge retention Record and share individuals' materials research and experience within the practice and archive past project materials

•

Save your bacon!

Reference samples ready to hand and easily located for last-minute presentations and emergencies. No more lost samples!

• Design excellence Pick better materials. Pick materials better: superior performance, longer lasting, cost efficient, aesthetic

• Reduced cost burden No dedicated staff required to manage and maintain the library (if desired) and more efficient use of space

• Reduced wastage Request and throw away fewer samples
Pick better materials. Pick materials better.