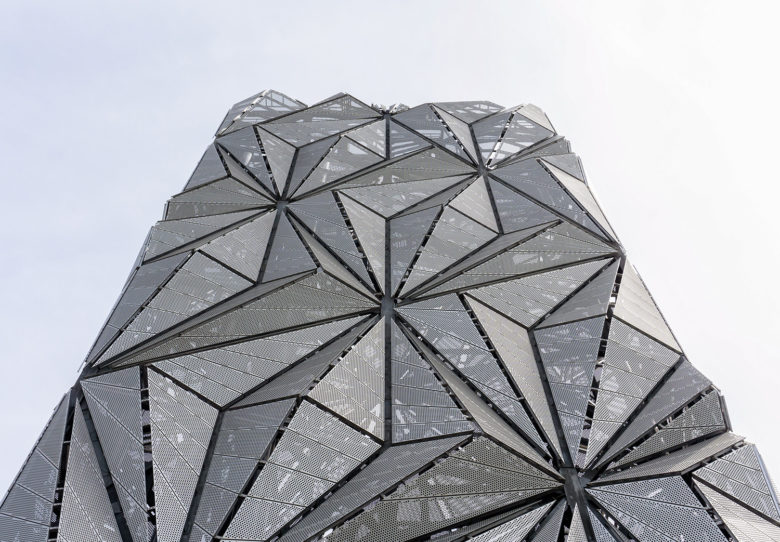 Client: Conrad Shawcross and C.F. Møller
Project: 'Optic Cloak', Greenwich, perforated cladding
---
Helping convert unsightly chimney stacks into a striking public art-piece, Materials Council worked with British sculptor Conrad Shawcross to select the materials and finishes that would produce the dazzling Optic Cloak.
As part of the Greenwich Peninsula development, Danish architects CF Møller were commissioned to design a low carbon energy plant that would power the nearby 15,000 homes. Rather than throwing industrial flue stacks into the sky, the design team opted to create something that could be a positive addition to the skyline rather than a blight upon it. CF Møller teamed up with Conrad Shawcross to deliver this vision and develop a piece of architectural-scale sculpture.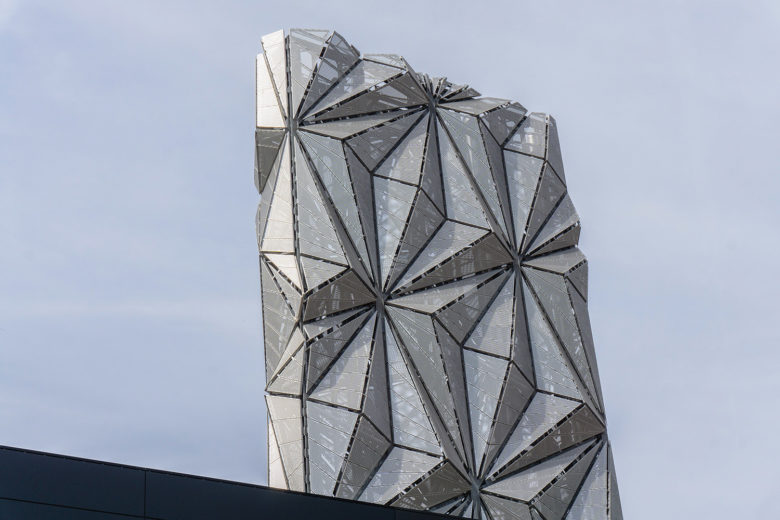 The Optic Cloak was born of Shawcross's exploration of camouflageThe Optic Cloak was born of Shawcross's exploration of camouflage, specifically the 'dazzle camouflage' of first world war ships and brightly coloured jungle inhabitants that became inconspicuous through visual disruption rather than blending in.
Shawcross opted for the moiré interference pattern as the vehicle to achieve this effect. The term originates from 'moire', the French word describing a textile with a rippled or 'watered' appearance. The moiré pattern effect is created by layering two similar but displaced patterns, which produce a dynamic surface that blurs and changes as the patterns move across each other, in this instance caused by the movement of the viewer's position.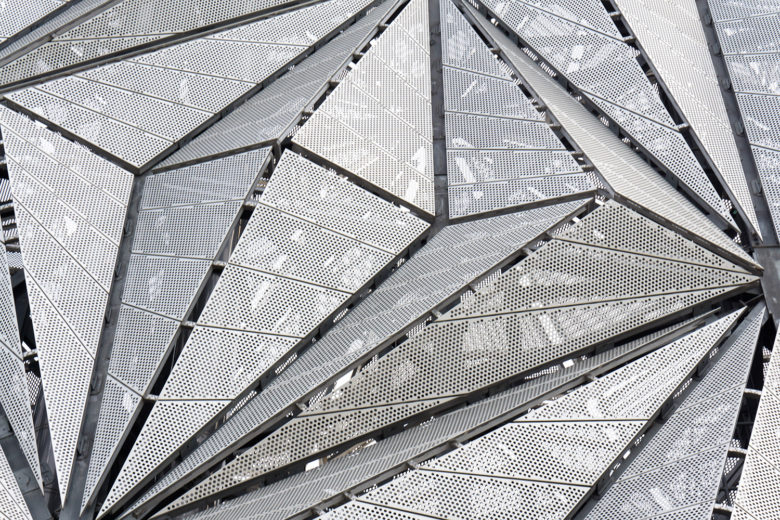 With the concept established, Materials Council were commissioned by Conrad Shawcross to explore what this towering art-piece would be made from. We searched for a solution that offered the required transparency and openess to achieve the aesthetic effect, yet was robust enough for the industrial application it would serve and could be achieved within the available budget.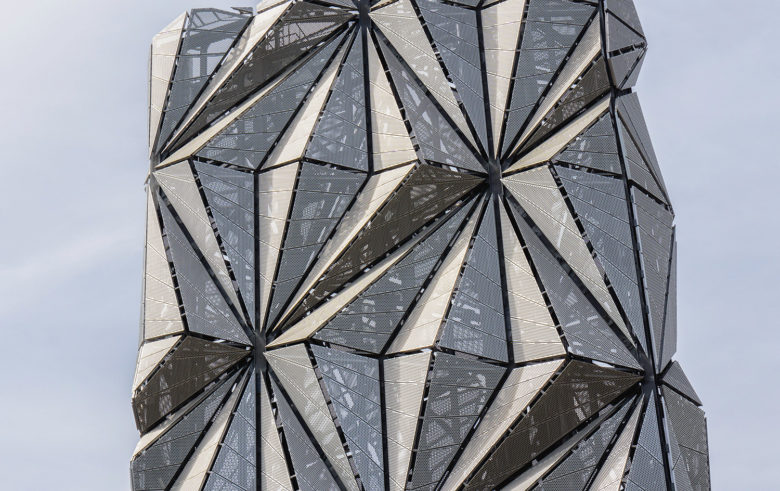 Metals quickly emerged as logical choice here, but which metal would be right and in what form? Should it be aluminium, steel or titanium? Should it be woven, expanded or perforated? Materials Council helped lead the design team to the use of punched aluminium panels attached to a steel sub-frame.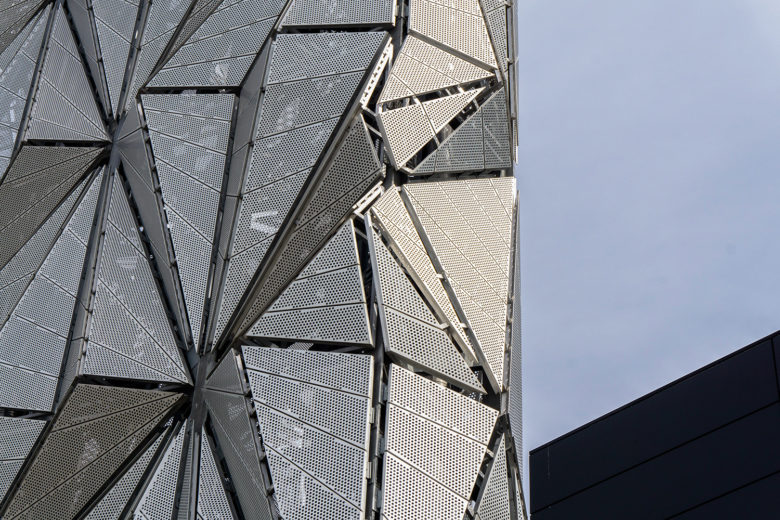 We took a deep dive into the world of perforation, exploring shape, scale, pitch and spacing, looking for a balance between physical performance, the visual effect and, of course, costs. The scale of each triangle meant that consideration needed to be given to economical panel sizes and how the perforation margins were handled.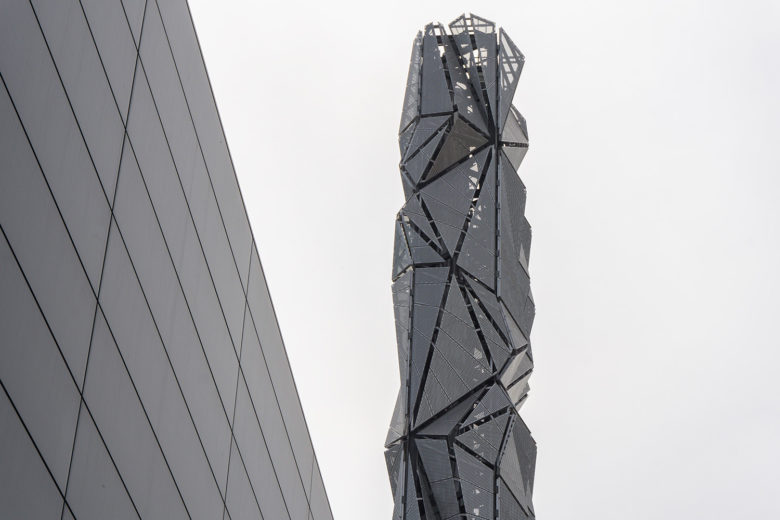 The resulting specification for the 49m tall landmark led to a design that was not only beautiful but was also 40% lighter than the original design.
With the base material selected, we then explored the finishing options for the aluminium panels, ensuring that this architectural sculpture dazzles for many years to come.