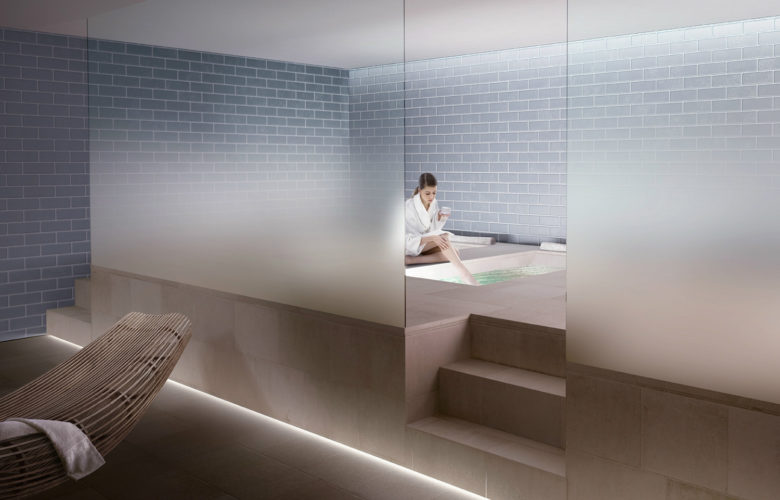 Greater efforts are being made to create not just less harmful environments but ones that are positively healthy; spaces that are more comfortable, pleasant to be in and, in the case of workspaces, more productive. The materials we employ within these spaces are a significant factor in this. We've noticed it not only through the development of new and innovative material products but also by their employment in concert with sophisticated design strategies.
In this article we take a look at how the wider trends for wellbeing and wellness are manifesting in our interior spaces, and the materials and products being developed to improve the healthiness of those environments. We'll be looking at technologies and developments that actively contribute to healthier environments, rather than products that simply adopt the predominant wellness aesthetic.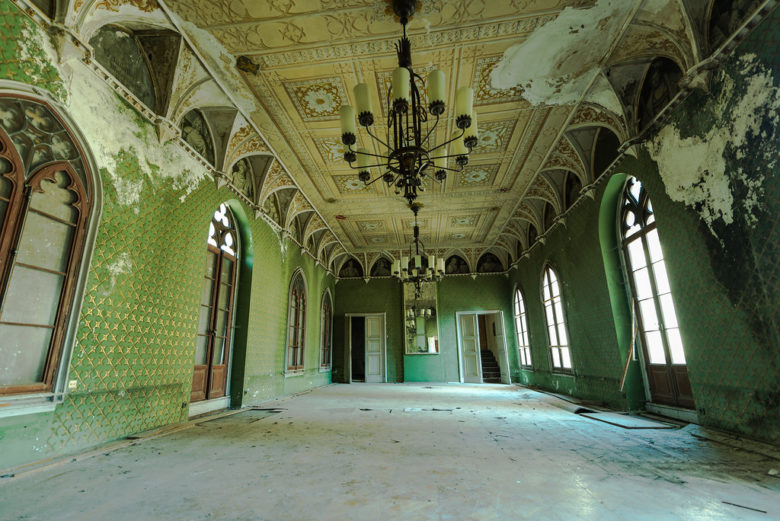 We've been aware of the deleterious effects the materials we share our enclosed spaces with can have upon our health for quite some time. Resultantly, many of the worst offenders have long been banished. 'Scheele's Green' pigment, produced from arsenic compounds and commonly used to colour wallpaper, paints, wax candles and many other products, was widely used throughout the 1800's until eventually being banned towards the end of the century. In the 1930's it found a new life as an effective insecticide.
To this day green pigments remain the most potentially damaging physiologically. This is due to the chemicals required in their production but, perhaps ironically, the colour green can offer psychological benefits to the occupants of a space. A better approach would be to achieve this effect through the introduction of plants and flowers.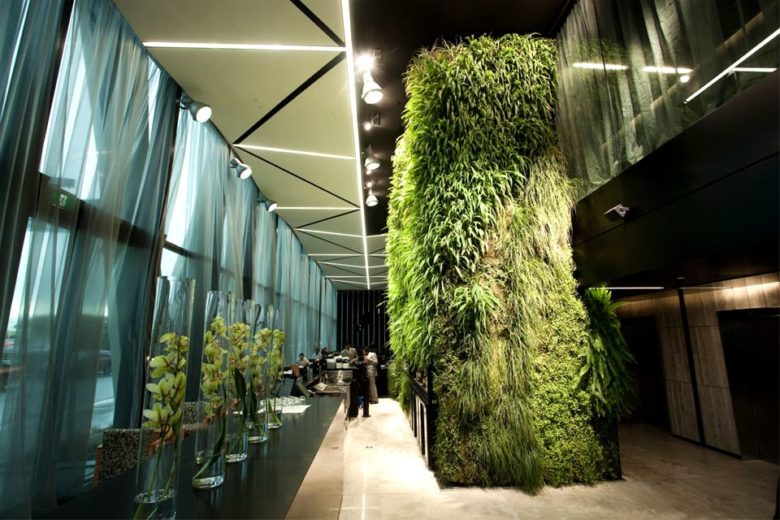 More recently, industry has paid greater attention to the volatile organic compounds (VOCs) that materials emit when in use. This was first seen in the adoption of water-based, solvent-free paints and has led to a raft of paints produced exclusively from mostly inert, natural substances. We now pay close attention to and tightly regulate the VOCs that all building products emit. This approach has also led some to question the wisdom of super energy efficient 'Passive House' design strategies, arguing that they create sealed boxes with terrible indoor air quality (IAQ), slowly poisoning the occupant with the chemicals the surrounding materials emit and which can not escape.
Some natural materials and finishes, such as clay wall plasters (a natural alternative to typical gypsum plasters), are not only VOC free but can also offer better performance than their chemically-engineered counterparts. For example, clay plasters (such as those produced by British manufacturer Clayworks) display what is called hygroscopic behaviour: the ability to passively regulate the humidity of an indoor environment, helping maintain it at an optimum humidity level of between 30%-70% (the so-called 'Goldilocks' zone) and minimising mould and fungal growth. They also absorb odours, leading them to being enthusiastically adopted by the restaurant industry recently. Look out for them next time you're in Nando's or Wahaca.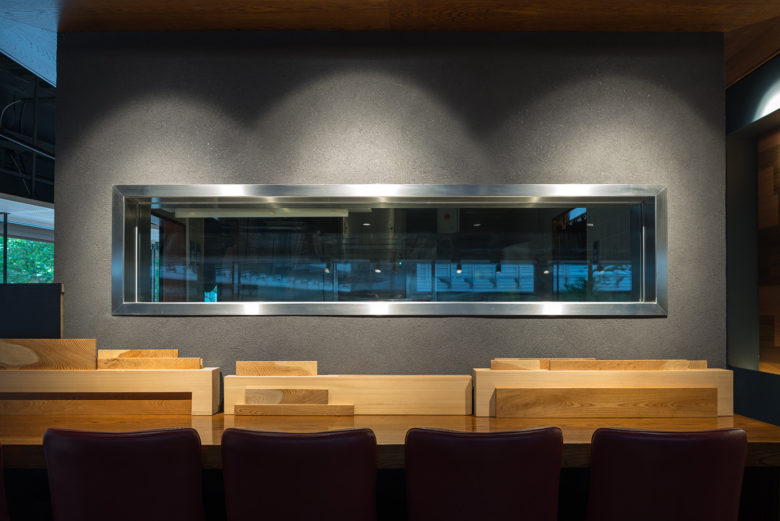 While Increasingly being adopted for residential and hospitality projects, clay plasters and similar products haven't seen such an uptake in commercial and workplace environments, places where perhaps the idea of wellbeing is considered less of a priority. With increasing workloads and time pressures, there is a greater tendency for workers to eat lunch at their desk. In open plan offices, hot and smelly foods are often banned as the aromas prove to be highly distracting for colleagues. By selecting more appropriate materials, this problem could be addressed.
Airborne particulate matter and fine dust particles, odourless and invisible to the naked eye, also play a significant role in the determining of indoor air quality, contributing to adverse health conditions such as asthma and allergies. A visibly clear indoor environment can still have poor air quality. In fact, the smaller the particle the more hazardous they are to your health as they can penetrate deeper into your lungs.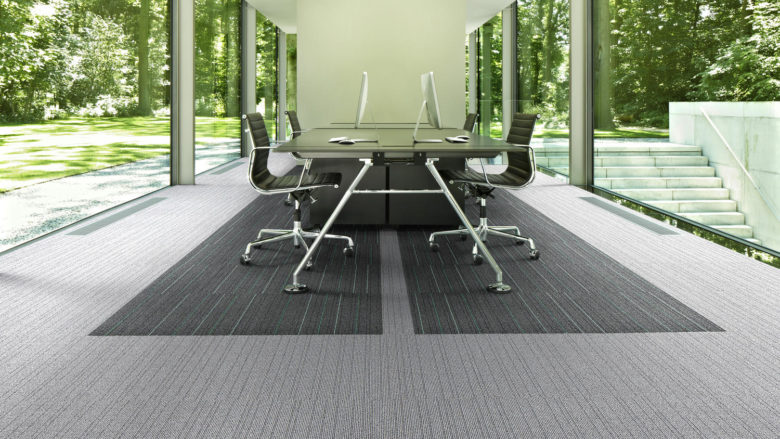 Carpets are more effective than hard flooring surfaces at capturing these fine dust particles, promoting healthier environments. The Airmaster collection of carpets, manufactured by Desso, goes one step further, effectively acting as an air filter for a room. Its structure is specifically designed to capture and retain more particles from the air while also making them available during cleaning, ensuring that the carpet continues to filter the air effectively. In tests, the technology has proven to be eight times more effective in capturing and retaining dust than hard flooring solutions.
Italian manufacturer Graniti Fiandre offer a range of ceramics, Active, that actually clean the atmosphere, removing pollutants and VOCs through the use of a photocatalytic nanocoating. The coating also gives the ceramics self-cleaning properties, destroys odours and kills bacteria.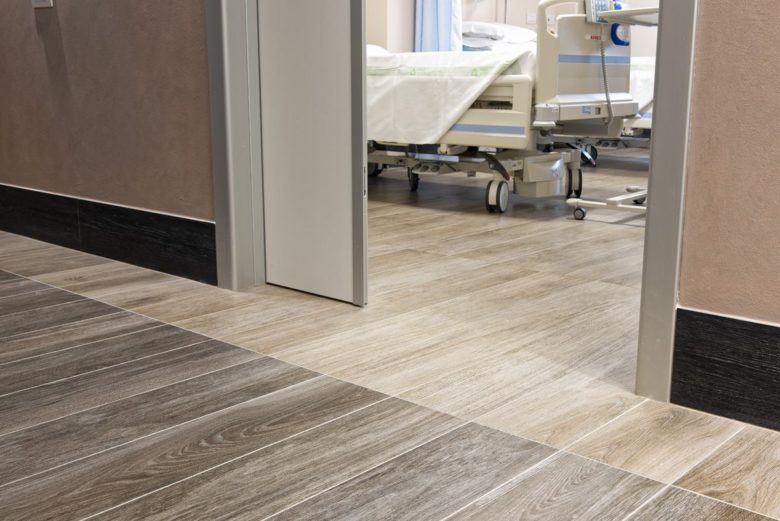 Copper and its alloys (brass, bronze etc) exhibit inherent antimicrobial properties, making them ideal for touch-surface applications in hospitals and healthcare facilities. Harmful viruses, bacteria, and fungi can remain on a surface for a surprising amount of time, sometimes longer than 30 days. Copper's antimicrobial properties have the ability to kill a wide range of these harmful microbes within two hours or less. They even demonstrate a 'halo' effect, extending their antimicrobial properties to surrounding non-copper materials up to 50 centimetres away. Research has suggested that these materials can reduce patient infections in intensive care units by as much as 58%, though other recent research has questioned the actual effectiveness of such surfaces and how they contribute to a wider anti-infection strategy and user behaviours.
The quantity and quality of natural light is one of the most immediately noticeable factors that contributes to an occupant's sense of wellbeing within an interior space. Greater use of glazing across a building's envelope increases natural light within interior spaces and offers superior views of the exterior environment, promoting improved wellbeing.
Perhaps the most common strategy we have noticed being adopted, and being catered for by materials manufacturers, is the increase in use of materials with high light reflectance values (LRVs), most commonly for wall and floor finishes. These materials transmit more natural light that penetrates a building's envelope deeper into the interior spaces, increasing the amount of natural light within a space and reducing the need for less comfortable artificial lighting.
But with all this glass and natural light we must also be careful about the admission of direct sunlight and infra-red radiation, causing spaces to heat up to uncomfortable levels. A relatively recently developed product, SolaVeil, is a custom engineered film applied to windows that both shields interiors from becoming too hot while also diffusing and scattering the natural daylight deeper into the room. Reduced glare and more evenly distributed light also increases the legibility and comfort of viewing computer screens and is less 'dazzling' to the eyes.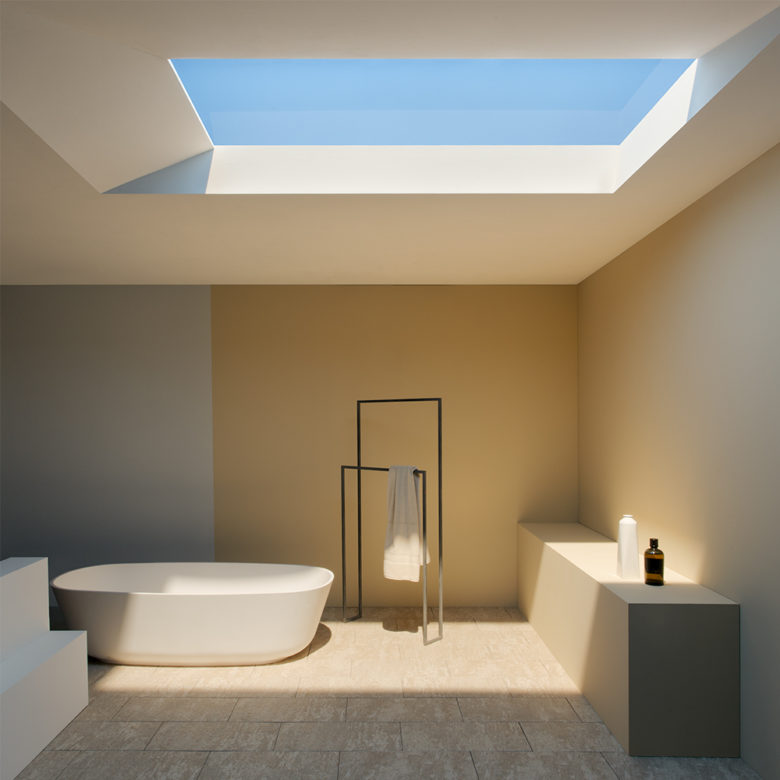 One of the latest, potentially groundbreaking, developments in regard to natural lighting comes from an Italian manufacturer, CoeLux. They have developed a daylight-simulating panel that employs an LED light source and nanotechnology to create an almost completely convincing illusion of a genuine skylight.
Their nanotechnology replicates Rayleigh scattering, a phenomenon of light that occurs as it interacts with our atmosphere, giving it its diffuse blue hue. Combined with an optical effect that makes the light-source appear at an 'infinity' distance, and which moves in relation to the position of the observer, the illusion is complete. The absence of any heat being felt when stepping into the light and the lack of the passage of the 'sun' are, as of yet, its only shortcomings (if we ignore the price…).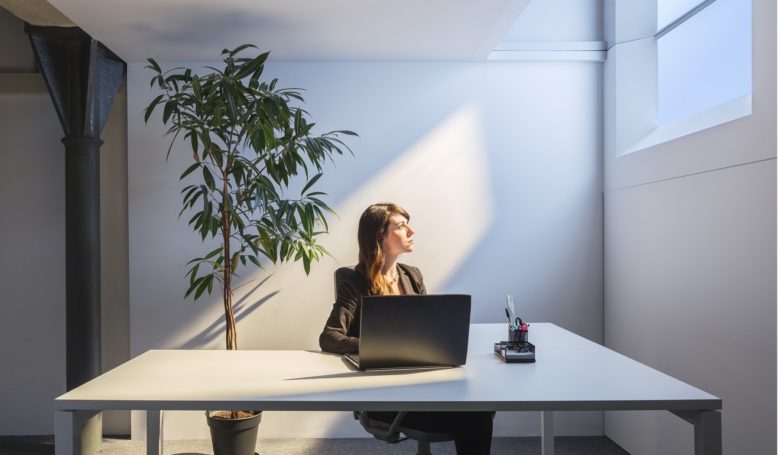 The potential applications and benefits to wellbeing of such technology could be far reaching and revolutionary. It could make previously unpleasant basement and windowless spaces more comfortable and usable for prolonged periods, greatly increasing the sense of space and wellbeing for the occupants. It could also reduce conditions such as seasonal effective disorder and regulate occupants' circadian rhythms when using such spaces.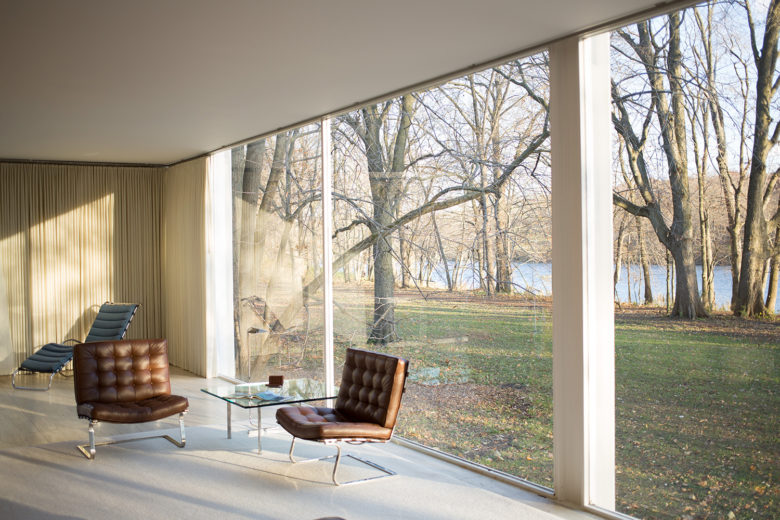 But we should also remain mindful that such technologies are not over-used to the detriment of the occupants wellbeing. While making interior spaces more natural and comfortable to be in is clearly a worthy endeavour, we should not forget that it is no substitute for the wellbeing gained from simply spending more time in nature.